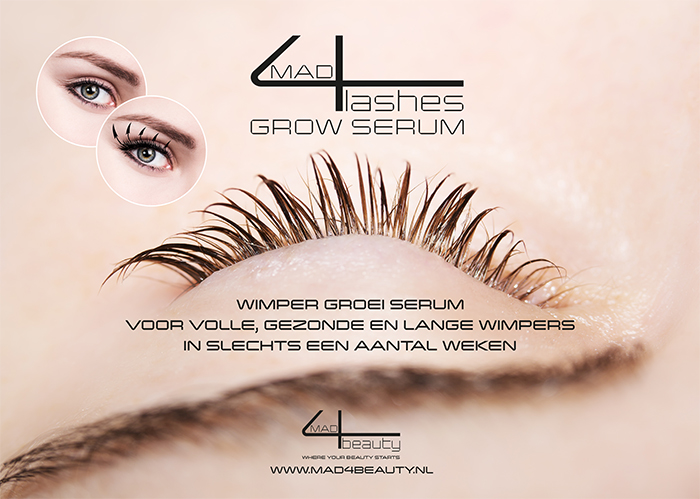 Mad4lashes eyelash growth serum
Beautiful full, long lashes, isn't that what every woman dreams of? Full eyelashes make your eyes speak more and provide a sensual glance.
Just like your skin, your eyelashes also need care. Unfortunately, the lashes are often forgotten. Mad4lashes eyelash growth serum is developed to you
optimally care for lashes. Mad4lashes eyelash growth serum is a patented and scientifically developed product. The growth serum takes care of it
that improve the flexibility, hydration, shine, thickness and length of your lashes. Only after a few weeks your eyelashes will look fuller, healthier and longer.
Daily use
Do you also want better eyelashes? Then take care of them every day with Mad4lashes eyelash growth serum.
A thin line just above your eyelash edge is enough.
Do you have eyelash extensions? It is no problem to combine this with Mad4lashes eyelash growth serum
Instructions for use Mad4lashes Grow serum
Apply the Mad4lashes eyelash growth serum to the attachment of the upper lashes using the applicator brush.
The eye must be completely free of makeup or eye creams. Start from the inner corner of the eye to the outside, directly at the
attachment of your eyelashes. Apply the serum before going to sleep after cleansing the face; remove if
need contact lenses. Make sure it doesn't get in the eyes.
- For optimum results, use the serum twice a day in the morning and before going to sleep.
- Please note that you apply the eyelash serum consistently every day for at least 12 weeks.
- After your eyelashes look optimal after Mad4lashes use, you can suffice with a maintenance dose
from 3 to 4 times a week to keep your beautiful lashes.
- Mad4lashes can also be used while using eyelash extensions or eyelash paint.
Users found that daily application of the serum after 2 weeks a 25% increase in thickness and length
of the eyelashes, and a 75% increase after six weeks of use.
After 6 weeks of consistent use of the Mad4lashes grow serum you can clearly see the lashes
have become fuller, longer and firmer.